COVID-19 in Jails
COVID-19 in Jails: It's not going away

Last week, Los Angeles Sheriff Alex Villanueva appeared at the monthly Civilian Oversight Commission meeting to respond to questions about COVID-19 in his jails. His first comment was that he was doing great; the jail is an island of paradise, according to him. While the members of the commission expressed concern about the climbing jail population, Sheriff Villanueva insisted that the "low hanging fruit" (what now?) had already been released and didn't comment on anything the new District Attorney George Gascon might have in store. (Unsurprising since the sheriff has been absurdly snarking on Gascon.) The sheriff has taken the tactic of blaming everyone else under the sun for his management and political failures.

One of the most enlightening (in a bad way) comments came during a discussion on the feasibility of requiring masks and other health measures inside the jail. Bruce Chase (the Assistant Sheriff for Custody Operations) gave some mealy-mouth answer about freedom. The sheriff could have left it there. But that would have been too sensible. So, Sheriff Villanueva added his own gloss on the situation before cutting out for the day: "There's a practical issue too. The people that are inside the jail system are not there because they're known to adhere to the rule of law." Mic drop. Sheriff Villanueva out. Right before public comments.

His comment was fact-free, demeaning, and unprofessional, like throwing a match onto kerosene-covered poop. But, there's more. It was also indicative of the way society has always viewed people inside correctional facilities. Not only are they less than human (lacking in ethics, dignity, and common sense to the sheriff); they are also somehow cut off from the world. Like aliens, once people are placed inside a jail, they no longer adhere to the rules of society. (It is easier to demean and mistreat people if you don't think they are human.) Someone whose job is to take care of people shouldn't be talking about individuals in this way. No one should. This is further evidence for my personal view that jails, if they exist at all, shouldn't be run by law enforcement.

I feel like many people have been talking and talking for nearly a year about the spread of COVID-19 in jails, but the results have been so disheartening it's like spitting in the wind. It's not like this is a novel concept. Jails and prisons have been known vectors of other communicable diseases like hepatitis and AIDS. Allow me to take a side tangent here about AIDS transmission in jails and prisons, where the prevalence of AIDS is/ was around 5 times the general population. Most facilities used an "educational" method, which meant talking to people about how AIDS is spread. Notably, correctional facilities did NOT use harm-reduction methods, which would mean providing clean syringes and preventing rapes. In the mid-2010s, I remember when California instituted a law requiring condom access in prisons, and it was the subject of jokes and shame.

It then should come as no surprise that jails and prisons are uniquely unprepared to deal with COVID-19 because they have systemically failed to deal with other health disasters in the past. It is again this idea that because people are inside of correctional settings, they no longer deserve basic human dignity or care. Layer this on top of a story about personal responsibility American politicians like to tell – people are in jail because they don't follow rules – and you have the perfect recipe for inaction. (Of course, when law enforcement doesn't "follow rules," it's because the rules are bad.)

Vera and other groups have written about the depressing fact that, while jail populations in many places did go down at the start of the pandemic – when officials were motivated, I suppose – they bounced right back up as law enforcement and prosecutors returned to their normal way of doing business. I think, depressingly, of something I read once about how the carceral system is geared to return always to stasis. It's not an accident or inertia; it's by design.

Preventing the spread of COVID-19 infections within a jail is not only necessary for those inside, it is a public health measure for entire communities. Jail "churn," as the process of cycling people in and out of jail is called, means that people are always entering and exiting the jail on a regular basis. Even beyond the churn of people being arrested, booked, and released, there's a myth that jails and prisons are somehow walled off from the rest of society. In fact, the opposite is true. As one scholar wrote, "Surveillance, poverty, and homelessness become a mutually-reinforcing cycle," particularly given the so-called "revolving door" of the system.

One recent paper looked at COVID-19 infections in the Cook County Jail and found that cycling people in and out of jail was the most determinative factor in assessing the rate of COVID-19 outbreaks in Chicago. In communities where there was more policing – and more people being booked into jail – there was more community spread of COVID-19. The implications are chilling. Not only are jails dangerous for the people inside of them; they are also a clear and present threat to the entire community, reducing the health and wellness of everyone. Below is an excerpt.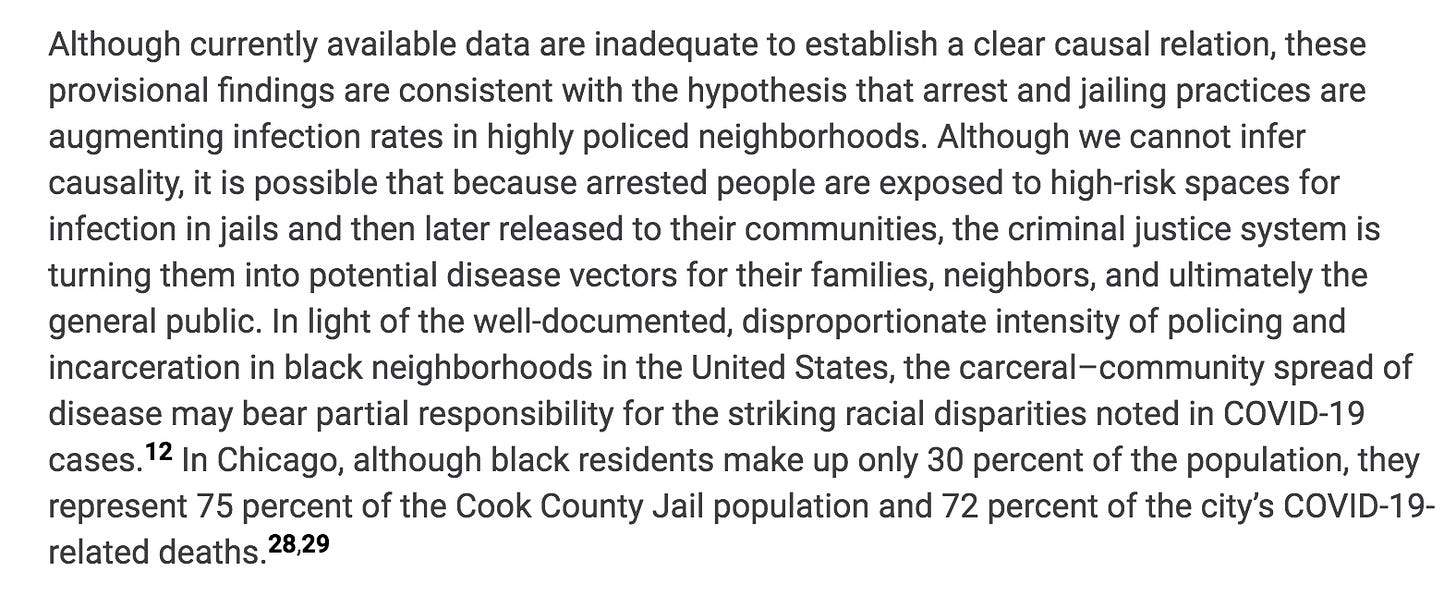 Public safety indeed!



Other Reading

The California Attorney General finally opened an investigation into the Los Angeles Sheriff Department. Finally.

Shaquille O'Neal is the new Director of Community Relations for the Henry County Sheriff's Office. He joins his illustrious colleague The Hulk as a pro-law enforcement guy. How about working for CAHOOTS, my friends! They are super heroes, too.

Rachel Monroe wrote a great story about tactical training and guns. There's an ex-sheriff, of course.