The Recall of Snohomish County Sheriff Adam Fortney
The Recall of Snohomish County Sheriff Adam Fortney




What constitutes incitement?

Bob Martin has owned and operated The Stag Barbershop for 51 years in Snohomish County, Washington, a county north of Seattle that covers the land between the mountains and the Puget Sound. Martin's business, like every other business in Washington State, was closed pursuant to Governor Jay Inslee's "Stay Home, Say Safe" order to protect people from COVID-19.

But, according to Bob Martin, he was encouraged to keep his shop open because of the encouragement provided by Snohomish County Sheriff Adam Fortney's Facebook page, which stated that the sheriff would not enforce business closures because he decided they were "unconstitutional."

Note: It looks like Sheriff Fortney deleted the original Facebook post, so I am posting the snapshot from the court opinion below.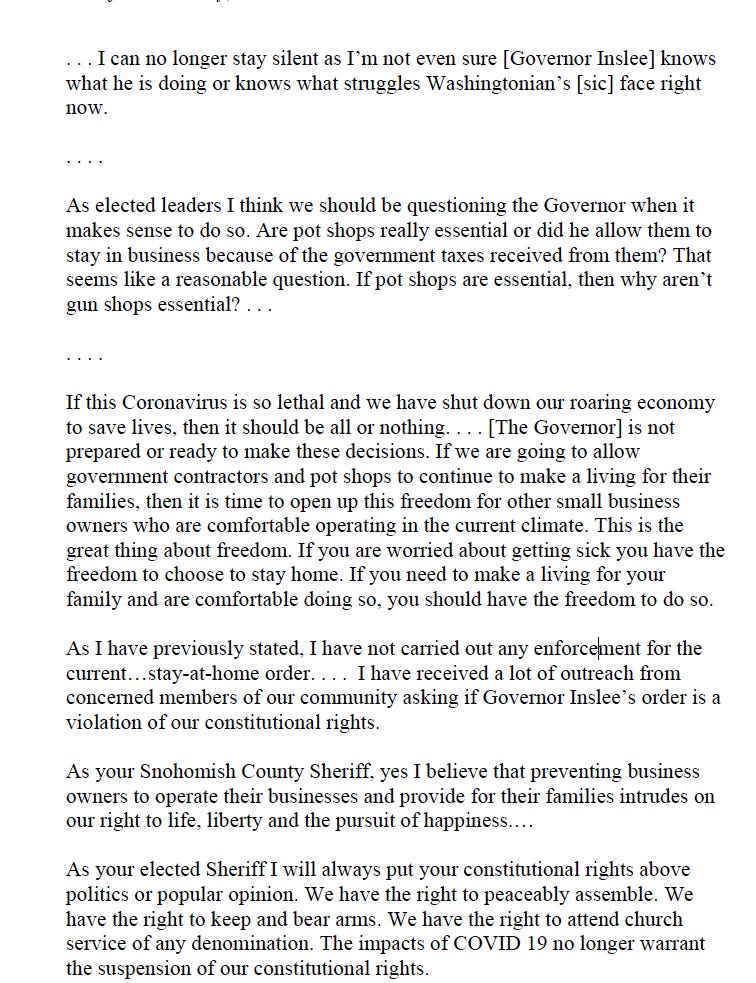 Martin the barber – who wears a Constitutional Sheriff and Peace Officer Association hat in Fortney's honor – has now racked up $90,000 in fines that he'll never be able to pay. But he's not worried, I suppose because the good Constitutional Sheriffs will foot the bill for him?

This barber is the heart of a current recall petition against Sheriff Fortney. (While there are other claims against Fortney, including the rehire of deputies guilty of excessive violence, the focus on this piece will be the incitement allegations. I've written before about Sheriff Fortney and his many unprofessional and bad acts as sheriff, so feel free to read that here.)

The way sheriff recalls work in Washington State is that any allegations that a sheriff has either acted with "malfeasance," "misfeasance," or violated their oath of office must be deemed factually sufficient by a judge before proceeding to signature-gathering for a recall election. This method is one of the handful of recall methods for county officials across the country. Some states have different standards for allowing a recall to go forward, which might range from evidence of intentional malfeasance (harder to prove) to the Washington standard, which includes a breach of the oath of office. States also vary widely on the number of signatures required for a recall and the amount of time. (California has one of the easiest signature requirements for recall, which is why the recall of Governor Newsom even stands a chance.) Also bear in mind that some states don't have recall provisions at all, requiring either a criminal conviction (e.g. Illinois) or some other judicial (e.g. South Carolina) or executive proceeding (like a governor's act, which is the law in New York state and Florida).

Sheriff Fortney does not challenge the claim that he said he would not enforce Washington's laws. But he did argue to the state supreme court that he could not be recalled for "inciting" others, like Barber Bob, to violate the laws as well. To some degree like Trump's arguments against impeachment, Sheriff Fortney argues that his Facebook posts and public comments about the unconstitutionality of the health orders fall under permissible free speech.

This was basically the dissent's argument, which relies on the fact that Fortney is allowed to express "disagreement" with the law and that a sheriff can enforce the law as he sees fit. Although, even the dissent argues that this discretion isn't unlimited: "It is certainly true that a blanket refusal to enforce some laws, combined with incitement to disobey those laws, could rise to the level of an abuse of discretion. For example, a social media post that Washington's laws prohibiting murder or robbery are unconstitutional alongside a blanket refusal to enforce those laws would likely provide sufficient basis to recall a sheriff."

The majority of the Washington Supreme Court didn't buy Fortney's argument. They pointed out that "Fortney's words can be reasonably interpreted as an exhortation for people to return to work," that they did encourage at least one person to go to work, and that "Fortney's express refusal to enforce the law could be interpreted as a catalyst for action." The court went on to argue (reasonably, in my view): "Though Sheriff Fortney is entitled to a great deal of discretion in his enforcement decisions, he is still subject to recall if he uses his discretion in a
'manifestly unreasonable manner.'"

Many legal pundits are busy talking about whether or not ex-president Donald Trump should have been prosecuted for incitement and how this may or may not conflict with free speech rights. But maybe we should be considering whether elected county sheriffs could be removed from office for incitement, which, while not insurrection-worthy, still accounts for immeasurable harms. Sheriff Forney is certainly not alone, and there are dozens of sheriffs across the country refusing to enforce such orders.

It makes sense to me that sheriffs should be held liable for their statements especially if they encourage people to violate the law. (Sheriffs certainly hold other people liable for what they do and say.) Plus, the potential for incitement charges might be useful for counties where the sheriff has refused to enforce laws (like state gun regulations) that put some people in direct danger. And, finally, it's worth noting that the penalty here is the potential recall of a sheriff. There are no criminal charges, and the recall election still has to go forward (which a sheriff could presumably win if their actions were popular enough). The Washington Supreme Court decision is quite clear that it is using incite in the "plain, ordinary meaning" of the word, which means there was no requirement to prove intent.

An interesting distinction is the same court's opinion in a case involving the potential recall of Sheriff John Snaza in Thurston County, Washington. There, the court held that the sheriff's comments he would not enforce a mask order was "not manifestly unreasonable." (This was actually a reversal of the lower court's decision, which upheld the recall.) The court relied, it seemed, upon the distinction of declaring a law unconstitutional and unenforceable versus stating one's intentions not to criminally enforce a law. It's a bit wobbly. (Also, the court cited Angela Davis as being in favor of discretion to reduce the impact of the law on Black communities, which it's not clear is an issue in this case.)

I can understand the tricky navigation here because sheriffs, as law enforcement, have a great deal of discretion, both in terms of policy and day-to-day. It is literally impossible to force law enforcement to intervene to protect people, and, similarly, it would be impossible to require that sheriffs and their deputies arrest everyone they see committing a crime. (This all begs the question of what the role of law enforcement is, if there is no legal duty to protect the public.)

And I can see the counter-argument as well. Should a country elect a sheriff who was more progressive-minded and wanted to decarcerate the jail, would they be subject to recall for failure to "enforce the law?" Would it matter if the sheriff announced the policy before election? What if the policy was more muddy, or simply said the sheriff would "use discretion before making an arrest"? (The same plays out in prosecutorial politics.)

Because sheriffs are democratically elected, there's an argument that participating voters get what they ask for, which may not align with what those most impacted by law enforcement want. In many ways, as I have pointed out, the populism of these sheriffs makes them more likely to act as the "populist anti-hero," a phrase Grits for Breakfast coined and I will claim forever. People often like sheriffs who don't obey the law, so long as that impact is on people considered "criminal." (Personally, I blame the media for making much of sheriffs like Joe Arpaio, which enables them to grow an outsized reputation.)

I am personally struck by the role social media plays in these scenarios. Without social media, Sheriff Fortney would not have been able have the same impact on people across the county, and there would be a better argument that his statements are more subject to interpretation. But as any good lawyer knows, anything in writing last forever and has a more durable impact as evidence. Every sheriff seems inclined to use social media, mostly Facebook, as a way to spread their message without traditional media gatekeeping (or fact-checking). More than other law enforcement, I think sheriffs, probably because they are elected, are much more prone to Facebook declarations, often on the more bizarre end of the spectrum.

Advocates are currently busy collecting signatures, which, in a pandemic, is hard. They are relying on mailers to avoid knocking on doors. This Saturday, there is a fundraiser for the cause on Saturday. I am speaking with some other excellent panelists on Constitutional Sheriffs and the dangers they pose. Please join us! It's Saturday at 5 pm PT (that's 7 Central and 8 EST for those who don't do time zones, like me). Even if you can't attend, please donate if you can.
Other Reading

I'm a bit behind on reading, but I wanted to point out this piece on the horrific conditions in San Diego's jails. Journalists there have done a magnificent job covering the bad acts of the sheriff, including my sheriff accountability pal Kelly Davis whose been on the San Diego beat longer than anyone I know.